There are many ways to arrive at the paradisiacal beach of Jericoacoara. Many of them are economical, such as going by bus or sharing a ride.
The trip by road is around 300km and takes an average of 5 hours. There really is nothing of any interest along the isolated inland asphalt road. Pray that the driver likes good music and is a nice person! Hahaha!
Ok, you will arrive at your destination, but you should know that there are options that are much more . . . let's say . . . pleasant.
Have you ever thought of going from Fortaleza to Jeri on an adventure by going along the beach? This is what I offer. A trip without hurry to get to know some of the almost unexplored stretches of beach along the coast, as well as the well-known beaches of the sundown coast (Cumbuco, Taiba, Paracuru, Lagoinha, Flecheiras, etc.).
So, let's see how this trip along the beaches of Ceara can be "stressful" :
We will leave your favorite hotel in Fortaleza in the morning and go to the famous beach of Cumbuco by private 4x4 vehicle.
When we get there we will stop to fill up. No! Not the car! We will fill up a cooler with coconut water, juices, fruit, snacks, and for those who like it (as I do!) freezing cold beer to enjoy on our trip! Too good to be true! Whoops! I will be driving so I can't drink beer! Only when we get to Jeri! Hahaha! But you clients are free to imbibe!
After filling up with "supplies," we will let some air out of the tires of the Land Rover because it will be time to start the adventure! We will pass over the dunes of the Cauípe Ecological Reservation and continue our off-road trip!
Look at the photo below of our road! What a traffic jam? Oh my God! How much is the toll going to be? Hahaha!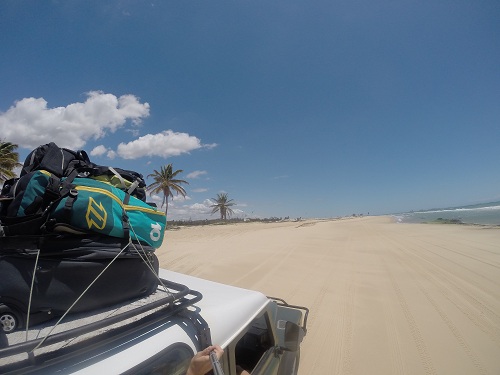 We will pass by the beaches of Pecém, Taíba, Paracuru, Lagoinha and many others.... We will stop for photos, selfies, swimming, quad and horse rentals, Everything you want to do without any hurry to get to our destination. After all, we are on vacation ... oops! Not me! Hahaha! This is my job... there are worse ones, don't you agree?
At Flecheiras beach we recommend a stop for fresh grilled fish at a restaurant where your feet will be in the sand. Won't that be nice? For anyone that really is not in a hurry, we can enjoy the beautiful town more and spend the night in a tranquil, comfy inn.
If a night in Flecheiras is not part of the program, we will carry on!
Mundaú Beach! We will put the Land Rover on a little boat (ferry) and cross the Grande Rio, arriving at isolated Baleia beach. After we will pass through Alpiques and Caetanos, as well as other smaller villages until we get to Icaraizinho de Amontada. There we will take the normal road until we get to the Jericoacoara National Park!
We will get to our destination for the sunset! That "boring" scenery: sunset at the great dunes, sea breeze, people practicing capoeira and the famous caipirinha with the "taste of Jeri!"
Would you like that? Access our Family Itinerary page, find out more details and take an unforgettable trip!
                                                                                                                  leokitetrip